7th Moon
In the future, a cybernetics and biotech lab produce an army of genetically engineered, cybernetically enhanced super soldiers. However everything goes awry during training when a few of these soldiers try to escape.

Received Honorable Mention in the first Mount Helicon Kamishibai Competition.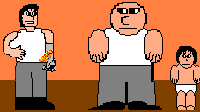 "No, that's all that's come back to me. Just that legend an the last few moments before I lost my arm."