Adventure Through the Realms
This is an adventure game through the mystical land of Faerūn, the main continent in the Advanced Dungeons & Dragons Forgotten Realms campaign setting. The main character's cousin has been petrefied by a basilisk and you set off for the murder site.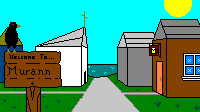 "You start in the port town of Murann."