ARKANGEL (Arkangel Returns)
Arkangel is going on vacation. So what could spoil this? Nemesis, and old enemy (a fight with whom caused Arkangel to need the vacation in the first place)! Failing to kill Arkangel, Nemesis resorts to that old standby, kidnapping the president's daughter and taunt the good guy into rescuing her. This is the first of a two part story.

Note: this is a bilingual story, Spanish and English. Just select your preference at the beginning of the story.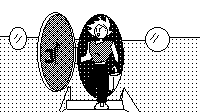 "Finally! A vacation!"