Bishoujo Senshi Sailor Polaris
Alicia Starr is an ordinary school girl who one day finds out she's the fighter for love and justice, Sailor Polaris. Along with her talking cat Starry and her Sailor Soldiers she must fight the evil Queen Vixen and the Negaworld. Sound familiar? The characters of Star Soldier Polaris star in this wacky spoof on Sailor Moon and the magical girl genre. The only way out is through the mysterious new boy, but the way is also blocked by Queen Vixen's servant Santiago and his evil pizza-themed monster of the day! What's a magical girl to do?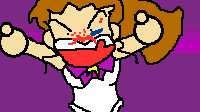 "WHAT THE HELL IS THAT!? YOU CAN'T JUST ATTACK ME RIGHT IN THE MIDDLE OF MY TRANSFORMATION!"
Bishoujo Senshi Sailor Polaris: 2nd Half
It's part two time, and you know what that means! More Animation! More Characters! Cross Dressing! Cameo Appearances! Intelligence and Practice! In part two, Tuxedo Maxim comes to the aid of our heroines, but he's too drunk to do anything. Mysterious Boy Tatewaki's identity is revealed! The scouts travel to the Negaworld to do battle with Queen Vixen! All this and more in the exciting and gut-bustingly hilarious conclusion to Bishoujo Senshi Sailor Polaris!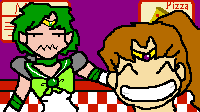 "You know, what didn't you just do that in the first place?"