Cha cha cha! - Prologue
This story introduces Midori and Yumi, two teenaged girls with boy problems. This is a prologue to two more stories that will follow these two in greater detail. For now, enjoy how the fantasies of each girl doesn't quite live up to the realities when it comes to confessing their love to their would-be boyfriends.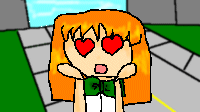 "Oh! I'm so in love!"