Codename: SailorM! Vol. 1
This is CSM ver. 2.0: All the wacky comedy with only half the obscure in-jokes! The original film was painstakingly restored, frame by frame... well, not really, but the colors have been fixed and the plot partially re-written so it's almost, but not quite, a totally new series.

Introducing a brand new not-quite-the-bad-guy, Radoslav Krwiopilski! And featuring all your favourite antics from the Looney Toon Senshi as she strives to defend the innocent and get her paycheck. Watch out - Things will never be the same!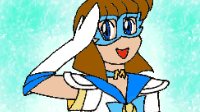 "Codename: SailorM! The very cute warrior of comedy has arrived!"