Cu Bono
A story rife with dark humour concerning the enslavement of human souls. Five young girls are about to have their lives change from deathly dismal to desperately chaotic thanks to the efforts of a young sadist.

Warning: occasional strong language.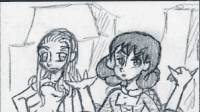 "I'm just WAITING for you to say how 'Un-American' it is."