Darkened Hearts and Broken Dreams
A depressing tale of betrayal and woe. In a world where power is the only thing that matters, you should trust no-one. But that's not what Princess Moriana did, and she'd going to pay, but she's not the only one...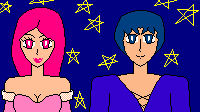 "You're not telling me something! What is it?"