Diary of an Emo Drama Queen
Come take a peek into the hilarious world of Emoly. Emoly , a teen drama queen, will show you the OTHER SIDE of afterschool specials and those Lifetime movies that keep breeding like rabbits! In complete black and white and featuring over 90 drawn panels, this funny Kami is sure to entertain you (until you run away screaming). You'll find 5 stories in this edition to keep you enthralled.

Warning: this Kami does contain strong language and themes.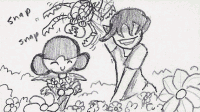 "And he spent quite a bit of time putting bugs in my hair."