Dinky Queen: Episode 1
This is the story of a little girl named "Banana", who transforms into the lovely heroine Dinky Queen! If you like weird Magical Girl Kamishibai's, you shouldn't miss this one!

Warning: Transformation sequence contains brief nudity!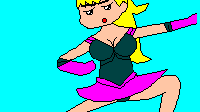 "You pervert! How dare you check me out while I'm transforming!?"