Eyes of Insanity: Anotsu's Story
This is the story about a twisted lion named Anotsu. This is only the beginning of the beginning and basically just a test. I am currently working on the rest of the series. I hope you all like it!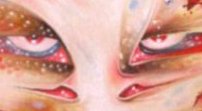 "I prefer to go by 'Lord Anotsu' but instead, most place 'The Freak' after my name."