Galaxy Cruiser GENESIS
Galaxy Cruiser GENESIS is an outer space adventure about a starship with an anime crew from different anime series. The anime series include characters from Dragon Ball Z, CardCaptor Sakura, Evangelion, Tenchi Muyo, and Fushigi Yuugi. Basically it's a story of a space crew exploring space and fighting hostile aliens.

Warning: mild nudity and some strong language.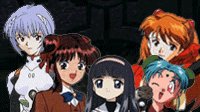 "Huh...they are all girls?"