Kamishibai Masterclass
So you're interested in making a Kamishibai but you'd like some tips, tricks, and advice? Then this collaborative effort among some of the brightest in the Kamishibai community may be just what you need to help you out. In here you'll find us discussing topics such as motivation, art, animation, and others! Check it out for yourself!

Due to its usefulness to the entire Kamishibai community, the "Kamishibai Masterclass" is available to all visitors to Otaku World, not just subscribers: Download now from the Kamishibai Free Zone!.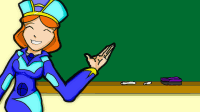 "Okay, now you can go ahead and register for some of the classes."