Kingdom Noire: Primus Tome
I remember the beauty of Kindour
Before the Hammer's crack
And if I could delay, the blur of days
I'd gladly take her back
~Rufus Astrum, traveling Minstrel

Kingdom Noire is an epic fantasy Kamishibai spun from the minds of Red and Hoshi. Initially started as a series of three hour challenges. Sixteen chapters later, over 48 hours of dedicated attention have gone into this project. We sincerely hope you enjoy.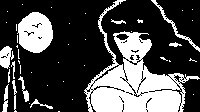 "And that which you treasure will surely be lost."