Love, Romance and a Zombie
A story of...well...Not even we're sure. Maybe you should just read the story...Jerry, Sherry, Harry, Terry, Gary, Mary and Bob will tell you! But watch out for the evil vazir... Features aliens, Sliders, Sailor Moon, and a zombie!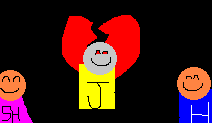 "At this point, neither Sherry nor Harry love Jerry."