Magical Madness - Part 2
When Thomas thought that his life finally went back to normal (at least as normal as it can get after the latest events), evil strikes again with another (more or less) ingenious plan to fight the good guys. But who is the bad guy anyway, and do the heroines have any chance to beat him?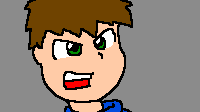 "I have no idea what you're talking about!"