Mecha Club Part 1: Shikata Gai Nai!
What starts as an ordinary high school mecha fight quickly becomes a nightmare for the student mechanics at Old Tokyo Denki University! Could those legends about Gremlins... be TRUE? (Features original scanned and colored artwork-- a first for the extremely lazy WarpZone!)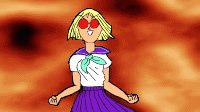 "Noooooo... gremlins are little monsters that live inside of machines!"