More Girls Become Senshi For no Reason At All 2
It's the second part of this, as my friend Liz puts it, insane and really stupid Kami! This time we find out the Senshi's real names. [Liz: And boy do they suck]. Liz! Any way, it's a chilling cliff hanger [Liz: *cough cough*].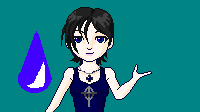 "What! Were your parents hippies or something?"