No Jello for Hortense
This is the story of a young boy named Mulkey. Mulkey, also a cannibal, just so happens to wake up hungry. Having no meat in his house, he goes on an epic journey meeting various celebrities on his way(most of which he tries to eat). He also encounters other people that frown upon cannibalism and shun him as he searches for "food".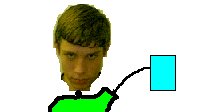 "Damn! No Flutie Flakes."