Oracle Strikes Again!
(Sailor Moon Series) Queen Beril's evil oracle returns, and sends some new enemies out to get the Imperium Silver Crystal (because they don't know any better). Of course, Sailors Neptune and Uranus come to save the day, but the oracle has other plans.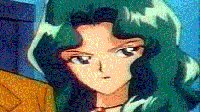 "That cloud! Transform, quickly!"