P-ko Chan's Day
P-ko Chan is a smart-talking, alcoholic ladies' man and he likes it like that. But, alas, the girls don't like men like that, they seek someone who has ambition (and maybe someone who's not a penguin). What will P-ko Chan do to win back their love? Hmm, taking over Canada seems good...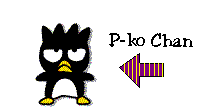 "Once there was a penguin named P-ko Chan"
P-Ko Chan's Next Day
Finally! The sequel to the kamishibai P-Ko Chan's Day is here! In P-Ko Chan's Next Day, P-Ko Chan and Hello Kitty do battle with Celine Dion, tour Willy Wonka's factory, fight Godzilla and pilot Evangelions all in their quest to take over Canada. With parody after parody and insane adult humor, the final chapter in P-Ko Chan's story goes out with a violence, sex and swear-filled bang!

Warning: This kamishibai is NOT FOR KIDS! It contains strong language and graphic violence. Heck there's things in here that'd make your grandmother cry!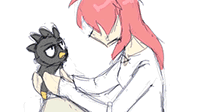 "Then there was Pearl... oh god... I don't wanna talk about that... you can't make me cry..."