Piquant
Piquant is a serious and studious man yet one day his passions get the better of him and he curses his muse only to lose it to a demon. Will he ever get his muse back?

This was an entry in the Kami Piquant contest.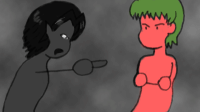 "You! You stole my passion! Give it back!"