S. Idol (Episode One)
Young Garth Banks wants to make a name for himself in the world. But in order to make it big he's going to have to make it at a private school filled with a whole generation of talented students! Will his confidence sink? Or can he make it all the way to the top of the heap and win the school's highest honor? Find out in this collaborative project between Red and TanyaGI! S. Idol "School is in session!"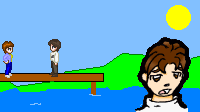 "I'm supposed to be happy right now, mom, and -- I don't get it. This feels like a mistake!"