Sailor Moon: Crisis!
A year after Sailor Moon Stars, the girls find human life to be relaxing and peaceful. However, that peace is shattered when a new enemy called the Amazon Duo sets up their company, "Dead Moon Inc" in town. Their goal is to find the mysterious Sol Crystal and use its power to dominate the world, while destroying the Moon Princess at the same time. The girls must now use their powers once more to stop the Amazon Duo before it's too late.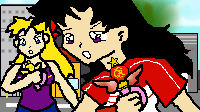 "Looks like we're going to have to transform again."