Shujimaru: the Ninja from Space
Whenever Evil threatens the Earth, there's only one man to stand in it's way! He is Shujimaru! And things are no different today as invading alien forces loom ominously above Earth's helpless cities. Will Shujimaru stop the alien menace in time?
Update author contact information in the Kamishibai.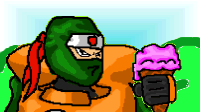 "Hey, can't you see I have more important matters?"