She Who Wears The Ruby Pendant: Siva
Siva is a story/game that tells the tale of young, smart, totally normal school girl that is asked to look for owner of a misplaced necklace. However, just when things are looking up and Siva is about to find this person... Things go totally wrong.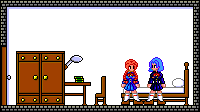 "Should I ask her about the jewelry?"