Skip in Hoiyoiyoiyoi
This is a story about Skip and Handsome Dan arguing over who won Puzzle Fighter when V.Man steps in and tries to kick both their butts! Lots of mindless action. This one is a bit on the weird side especially with the bunny transformation sequence.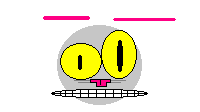 "I have to fight what?"