Sonic the Hedgehog Profiles v0.6
This is a little item that describes six major characters of the Sonic the Hedgehog's universe. Includes a 3D picture of each character and a brief description of who they are and how they fit in the Sonic Universe. Good use of sound effects and music.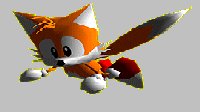 "Sonic and I are just friends!"