Sopaville (IT BEGINS!)
David has created a wonderful homage to South Park but with a few interesting twists. This story is about three little school boys who wish they didn't have to go to school. When their wish comes true, they have to clean up the mess!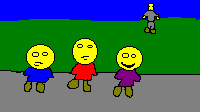 Be careful what you wish for!
Todd Goes to Mars!
Todd, from Sopaville, gets dragged to Mars where he must kick alien butt or die! Lots of gratuitous violence, witty lines, and some surprising camera work!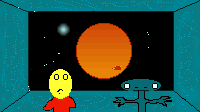 This planet's filled with alien butt!