The Highwayman (part 1)
Two lovers plan to run away together. One is a bank robber determined to reform his ways for the sake of love, and the other a stunning beauty willing to do what it takes for them to be together. Of course, there are complications when the man you love is a wanted criminal...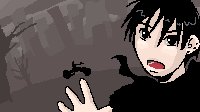 "And I'll become a better person. Someone worth being with you."