The Sheepening: A Tale with a lot of Yarn, or: a Yarn with A LOT of Tail
A young man is desperate to escape a most unusual (and cruel) curse. But could there be a reason why it's there in the first place?

An entry in the 2009 "Worth the Risqué" Kamishibai forum challenge.

Warning: Strong language and suggestive sexual situations.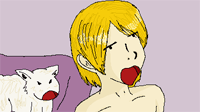 "But hey. I'm a normal guy. I don't sleep with sheep."