Tofu and Thousand Year Egg
A girl finds a treasure beyond imagination, the thousand-year-old egg of a dragon fish. When mysterious villains threaten the dragon fish she must outwit the demons and escort the fish safely upriver to the dragon gate so that it may take its true form.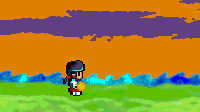 "As she got closer to the egg's nest, the egg began to shake and tremble."