Tuxedo Mask's Aid, Part 1
This is a story of a girl who happens to meet Tuxedo Mask, and save his life!!! She decides to help him furthermore by becoming ... Wait a min. You have to download it to see!!!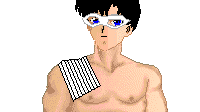 Immediately he reaches to see if his mask is on.