Unmotivated
Elie goes to school prepared. Prepared to sleep, listen to music, and leave early, that is. She's the laziest eighth-grader within a 500-mile radius. Then a stranger shows up at her house -- claiming that
he's the God of Motivation, and that he's come to...

Received 1st Place in the first Mount Helicon Kamishibai Competition.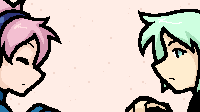 "I'm good at understanding things, or at least getting by with a stupid look on my face."