Usagi Saga
Take one part dementia, one part caffiene, let it bake for 24 hours and you get "Usagi Saga." Part of the 24 Hour Kamishibai Challenge, Usagi Saga takes the Sailor Moon world and turns it on its ear. It starts on a normal day in Tokyo, until a random evil shows up and the Sailor Senshi must put a stop to it. Along the way they grow tentacles, wear chicken suits, bleed profusely and ride around on giant flying tortilla chips. The wackiest kamishibai you will ever read, guaranteed! Includes an RPG mode as well!

WARNING: This kamishibai is not safe for ANYBODY. It contains blood, violence, tentacles, vomit, fetuses, a whole gaggle of swear words and unauthorized special appearances. Viewer discretion is advised!!!!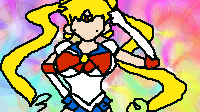 "POST MODERN NIBBLING STARSHINE POWER, MAKE UPS!"