from Gainax
This is a simple enough board game where you put units on the board, move those units, and attack the enemy with those units. You can play either the NERV (the Good Guys) or Evangelion Angels (the Bad Guys). Surprisingly tough as the bad guys can swarm over the field while you get only a couple of pieces at a time. Instructions for play are in english in a .WRI file (use Write or WordPad to view).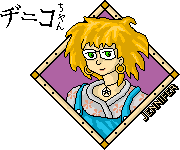 (Self-extracting zip file, size is 1958k.)
(Originally discovered by Murusame)
---
If a link on this page doesn't work, press here: IT'S BROKEN!! Tell us the URL of the page and let us know what is wrong.
Original art © 1996,1997 by Jennifer Diane Reitz
---