from Compile
This is a one-level playable demo from Compile. The idea is to race around a vertical course three times in the shortest time. Smooth animation, lively music, good graphics. Includes an interactive tutorial (match what the other character is doing to move through the tutorial).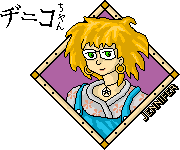 (Self-extracting archive file, size is 1,665k. Run BLITZTRY.EXE to play.)
---
If a link on this page doesn't work, press here: IT'S BROKEN!! Tell us the URL of the page and let us know what is wrong.
Original art © 1996,1997 by Jennifer Diane Reitz
---