by Takayuki Ozawa
This a simple enough puzzle game. You are a little round guy who wants some happy dessert. To earn the dessert, you have to guide your little guy along a path in such a way as to touch every active square (represented by happy faces that turn really nasty once you leave the square) only once, without crossing your path. Trickier than it sounds! Cute graphics and twisty puzzles. Uses the arrow keys to move.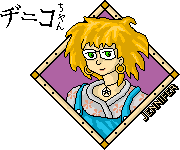 (9/13/1998: self-extracting file, size is 266k. Windows 95/NT only!)
---
If a link on this page doesn't work, press here: IT'S BROKEN!! Tell us the URL of the page and let us know what is wrong.
Original art © 1996,1997 by Jennifer Diane Reitz
---