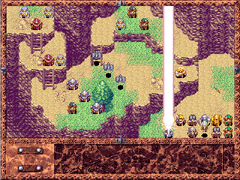 Devil Force III
I feel like I'm on a treadmill!
I always seem to be running!
---

from Compile
This is a clone of Shining Force, the role-playing game that stresses strategic battles with lots of story between each battle. If you ignore the story (it's in japanese), you get three challenging battles of overwhelming odds (three against ten?). Tough game but beautiful artwork and really rousing music. Secret to playing this game is the top menu item is usually the action item and it is the one generally ready to select. The opening is the only tricky part: you are generating stats for three characters and once you have done it for three, the game continues. One last thing, this game has a really nice opening sequence with credits.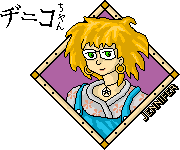 This game works entirely with the mouse.
This game has a minor problem with the Multi-Lingual Viewer in that the characters are transparent and difficult to see sometimes. But since you are ignoring the story anyhow...
(Self-extracting Windows zip file, size is 2,834k. Run DF3.EXE to play.)
(NOTE: This archive has been modified from the original which included DirectX-2. Only DirectX-2 has been left out, reducing the archive from over 10 megabytes to the current 2.8 megabytes.)
---
If a link on this page doesn't work, press here: IT'S BROKEN!! Tell us the URL of the page and let us know what is wrong.
Original art © 1996,1997 by Jennifer Diane Reitz
---