by Kunio
There comes a time when everyone who uses a mouse thinks they are really good with that mouse. Doreamon Attack will prove just how good you really are! You must protect your red bean cake cursor from the attacking robot cats by moving it out of the way. Everytime you get hit, you lose a point. Lose all your points and the game is over. Sounds easy? It's not!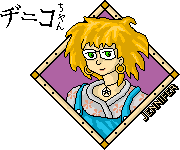 (self-extracting zip file, size is 153k.)
(Thanks to Wei-Hwa Huang for the proper description of Doreamon!)
---
If a link on this page doesn't work, press here: IT'S BROKEN!! Tell us the URL of the page and let us know what is wrong.
Original art © 1996,1997 by Jennifer Diane Reitz
---