from HAL Labs Japan
Remember the game Lolo on the old Nintendo (NES)? Well, HAL Labs has created a version based on the original japanese release of Egger Land (the original title in Japan). This is a beautiful demo of the game and just as puzzling too! Only sad part is the commercial version of Egger Land is not available in the U.S. However, enjoy the playable demo! Not only that, this version includes a complete level editor! Supports mouse, keyboard, and joystick.
Caveats: most of the dialogs are in japanese but the language isn't even visible on U.S. machines. The main dialog to note is when you exit the program, you are presented with three choices: the left button is autosave, the center button is cancel, and the right button is a Save As option.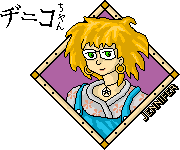 (self-extracting zip file, size is 1341k.)
(Warning: help file cannot be viewed on non-japanese systems!)
---
If a link on this page doesn't work, press here: IT'S BROKEN!! Tell us the URL of the page and let us know what is wrong.
Original art © 1996,1997 by Jennifer Diane Reitz
---