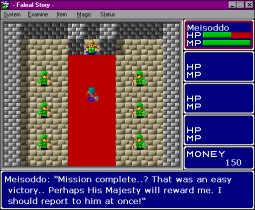 "A dragon! you're kidding, O King!"
Description
This is your basic role-playing game for Windows. Fight thieves, slimes, dragons. You know, the usual suspects. Good music and classic graphics. Oh, and one other thing about this Japanese role-playing game -- it's in English!
Yes, thanks to Kain, this entire game, and it is a complete game, is now in English!