from Compile
This is a role-playing board game but unlike anything you may have seen before. The game is played on a "board", you use a spinner to move and your abilities are embodied in cards. In battle, you select a card to use and you can't use that card again during that battle. There are hazards on the board and two computer-controlled characters. The goal of the game is to reach the exit before the other two characters. Although all the text is in japanese, this game is easily understood and mastered. And it's a lot fun to! To exit the game, press Alt-F4.
Giniko-chan says "This is how 'Magic The Gathering' SHOULD have been done as a game on the computer!"
This one level game demo appeared on Compile's Disc Station vol. 15.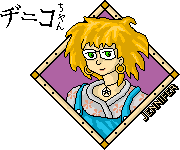 (Self-extracting archive, size is 3,342k.)
---
If a link on this page doesn't work, press here: IT'S BROKEN!! Tell us the URL of the page and let us know what is wrong.
Original art © 1996,1997 by Jennifer Diane Reitz
---