by Frieve
This little game is a version of Tetris. However, cute creatures drop down two at a time and the object is to get at least five or more of the same type touching each other in a three by three square. Great music, cute graphics.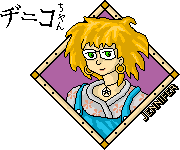 (self-extracting zip file, size is 201k.)
(3/8/1998: Thanks to Matt D. for clarification of the rules.)
---
If a link on this page doesn't work, press here: IT'S BROKEN!! Tell us the URL of the page and let us know what is wrong.
Original art © 1996,1997 by Jennifer Diane Reitz
---