by Frieve
A "run up and down the ladders through the warp dots to find the keys to open the door to the next level" game. This game offers an interesting twist on the maze game: the two monsters are always in the same position on every screen. This means you sometimes need to warp to a screen that allows you to draw the monsters away from the spot on the other screen where you wanted to go in the first place.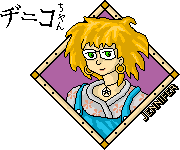 (self-extracting zip file, size is 302k.)
---
If a link on this page doesn't work, press here: IT'S BROKEN!! Tell us the URL of the page and let us know what is wrong.
Original art © 1996,1997 by Jennifer Diane Reitz
---