from Compile
This is a role-playing game from Compile, featured on their DiscStation #14. It concerns three characters, a tiger, a wolf, and a girl looking for something. Since it is in japanese, it is somewhat difficult to follow the actual story. However, the play is simple enough and there are lots of fights to get into. I managed to finish the relatively short story without understanding what was going on. The graphics and music are beautiful and are a true mark of Japanese RPG tradition. Be sure to check out the public bathroom! Talk about detail!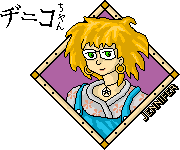 (Self-extracting Windows zip file, size is 3,361k. Run GENSE.EXE to play.)
(NOTE: This archive has been modified from the original which included DirectX-3. Only DirectX-3 left out, reducing the archive from over 10 megabytes to the current 3.3 megabytes.)
---
If a link on this page doesn't work, press here: IT'S BROKEN!! Tell us the URL of the page and let us know what is wrong.
Original art © 1996,1997 by Jennifer Diane Reitz
---