from Game Station
This is a fast-paced little game in which you try to defeat your opponent. What makes this game a bit different is your character is chosen among a large variety of super-deformed Gundam robots and each appears to have its own strengths and weaknesses. Everything is in English. Keyboard control. Midi music.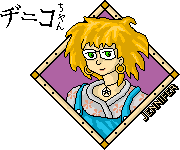 (4/8/1998: self-extracting zip file, size is 2207k. Windows 95/NT only! Run GUN4.EXE after extraction.)
(Note: the archive has been modified to put the game into its own directory and to make it self-extracting. The contents are unchanged from the original archive. The original is available at Game Station, which also has a number of games and programs.)
---
If a link on this page doesn't work, press here: IT'S BROKEN!! Tell us the URL of the page and let us know what is wrong.
Original art © 1996,1997 by Jennifer Diane Reitz
---