from Login Softcom
mano a mano, hamster a hamster. Beat the pellets out of your opponent. This simple little game is for two players using the keyboard. Two hamsters duke it out a la Street Fighter. You can punch, kick, jump, duck, and block. Ridiculously cute and fun!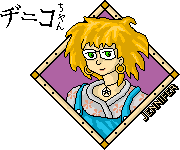 (Self-extracting zip file, size is 128k. Read HAMSTER.TXT on how to play.)
(This program has been repackaged to separate out vbrjp200.dll to reduce the overall size. The original archive is available here as hamstlzh.exe (328k).)
---
If a link on this page doesn't work, press here: IT'S BROKEN!! Tell us the URL of the page and let us know what is wrong.
Original art © 1996,1997 by Jennifer Diane Reitz
---