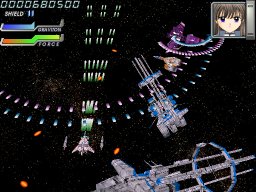 "Raise the blast shields and hurry!"
Description
This massive download is a full game. It is a vertical scrolling shooter which uses 3D technology for all the ships. You fly one of four ships, each with a unique power, and shoot everything in sight. A unique aspect of this game is the use of the Gravity Shield which will block and absorb enemy shots. When the Graviton Gauge is full, you can unleash a devastating Gravity Lazer which will make short work of the enemy (the boss is another story). There are an unknown number of levels and once you clear all the levels, a new challenge may appear. Oh, and the music and voice acting are professional all the way.
The archive contains an english translation of the japanese help file in E-Manual.html. It includes all the instructions for play.
The opening and ending movies are bundled as a separate archive due to their size and the necessity of having an MPEG codec installed on your machine to play from the game. However, you can view the movies in any MPEG viewer. The movies are not required to play the game.