from Compile
This is another game from Compile, this one being featured on Disc Station volume 6. This one level side-scrolling game features a penguin on skates trying to reach the goal and rescue the penguin children (which are used to hit monsters: the more kids you have, the more shots you get. Strange). What's more, all this takes place on grass-covered hills and platforms. Remember, I said the penguin was on skates. Very strange. Collect the gems for points. Shoot walls for hidden treasures! Classic skate and jump action. Beautifully rendered and executed. Works with joystick or keyboard. Use Alt-F4 to exit.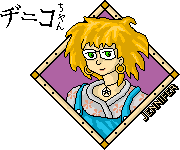 (Self-extracting zip file, size is 1135k.)
---
If a link on this page doesn't work, press here: IT'S BROKEN!! Tell us the URL of the page and let us know what is wrong.
Original art © 1996,1997 by Jennifer Diane Reitz
---